Acura NSX vs the competition
August 16 2019, North Shore Acura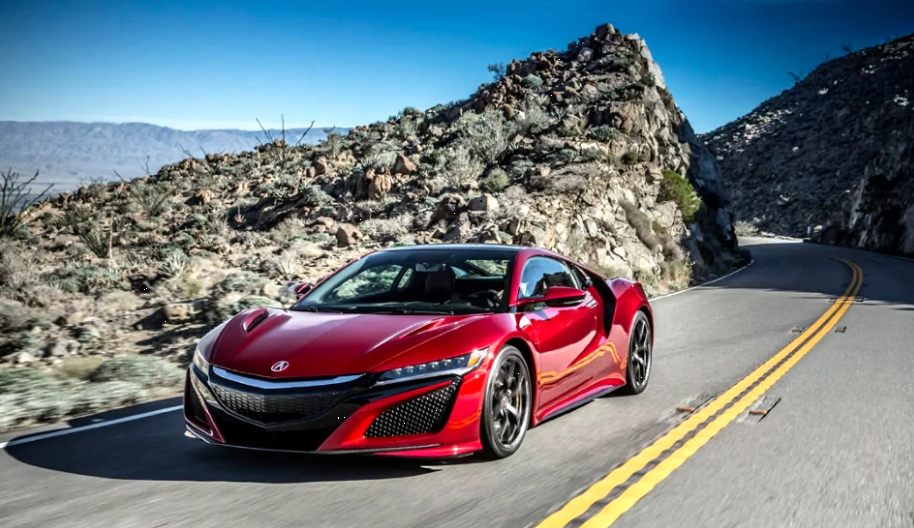 Ultimate performance and environmental stewardship combined

Ever since Acura became Honda Motor Corp's luxury division 32 years ago, its approach to the premium car market has been different than most rivals. Sometimes eschewing orthodoxy has paid major dividends, and sometimes not. Yet overall Acura has stayed true to its core ethos, which can be summed up as performance-oriented luxury with a healthy dose of environmental stewardship.
This was true of the original 1990-2005 mid-engine NSX sports car, and is even more apropos for the current second-generation NSX supercar introduced in 2016. The new NSX is capable of matching or besting some of the most illustrious names in the highly competitive "exotic" supercar sector on both road and track, yet its advanced two-motor hybrid drivetrain allows ultra-premium sports car buyers the ability to boast of fuel economy and CO2 emissions that are much more in line with today's environmentally responsible priorities.
To help you appreciate just how well the new Acura NSX competes with its closest mid-engine exotic sports car rivals, we've organized some straightforward, point-form lists of standard and optional features, plus key specifications from the base trim levels of direct sports car challengers, including the BMW i8, Audi R8, McLaren 540C, Lamborghini Huracán and Ferrari 488 GTB, plus we've elaborated upon each with some competitive analysis. Take a closer look for more:
It's no longer just ok to be as fast as the rest. Now it's more important than ever to be quick as well as responsible. Even with Formula 1, the pinnacle of motorsport, in which Acura's parent company Honda is now the official power unit supplier of four-times championship winning Red Bull Racing, electrification via energy recovery system (ERS) is now a critical part of the performance equation.
For comparative purposes we've included the BMW i8 in this discussion, and while it's the best on this list when fuel economy and CO2 emissions are highlighted thanks to its small-displacement 1.5-litre three-cylinder Mini-sourced engine and plug-in hybrid powertrain, the 369-horsepower Bavarian's acceleration from standstill is by far the slowest in this class at 4.4 seconds to 100km/h, whereas the 573-horsepower NSX hits the 100km/h mark in just 3.3 seconds while achieving some of the best fuel economy ratings and emissions results in the class at 13.0 L/100km combined city/highway and 5,962 kilograms of CO2 emitted per year.
That's incredibly quick, by the way, only beaten by the Ferrari 488 GTB, and then by a mere 0.3 seconds. On that note it's amazing to think the NSX hybrid will blast past the Audi R8 V10, McLaren 540C and Lamborghini Huracán in a straight-line dash, and then pass them once again when they're lined up at the pump. The Ferrari, for instance, requires 15.5 L/100km combined when driven gingerly to maximize economy, while the slightly slower Lamborghini sucks back a whopping 16.2 L/100km combined when the throttle is treated most tenderly. The McLaren's highway and combined ratings are a bit better on paper, but most reports state that it's near impossible to achieve its claimed highway rating in real life, which of course would make its actual combined results quite a bit higher. No doubt the NSX' paddle-shift actuated nine-speed dual-clutch automated gearbox and partially electric all-wheel drivetrain played a part in its efficiency, as well as its performance.
To put the worst offending supercars into perspective, the most efficient version of Cadillac's massive full-size Escalade SUV achieves an estimated 14.0 L/100km combined city/highway while only adding 6,580 kilograms of CO2 to the atmosphere per year, and this comparatively slow moving hulk of a leather-clad workhorse has a much better chance of achieving both claimed estimates in the real world than one of these sultry carbon-fibre and aluminum-skinned mid-engine tempters. So all said the NSX not only cleans most rivals' clocks on the road and track, but it pays respect to mother nature by besting them at the pump and tailpipe too.

Brilliant braking thanks to lightweight carbon-fibre and aluminum construction

What's more, the new Acura NSX is also tied with the Audi R8 for safest supercar, thanks to a 100km/h to zero stopping distance of just 29 metres, compared to 30 metres for the Ferrari, 31 for the base McLaren, 32 for the Lamborghini, and 39 for the BMW. Yes, the i8 needs an additional 10 metres to stop from regular highway speeds, which is just another performance parameter showing that it's not truly in the supercar league.
Then again, the i8 joins most of its competitors when it comes to exotic build materials, with much of its underpinnings formed from carbon-fibre. Similarly, the NSX is based on an aluminum-intensive space frame with a carbon-fibre floor and composite body panels, and can even be had with a carbon-fibre roof panel and exposed carbon-fibre exterior and interior trim. Such close attention to weight savings is a key reason for being so incredibly fast and agile.
At $189,900 the NSX is right on par with the Audi R8 despite its sophisticated hybrid powerplant and resultant performance advantages, while all of its true two-seat exotic competitors are priced tens of thousands, or in the case of the Ferrari 488 GTB, more than a hundred thousand higher.
Part of the NSX value equation is its standard feature set, which includes LED headlamps with automatic high beam assist, proximity-sensing access with pushbutton ignition, rain-sensing wipers, auto-dimming rearview and side mirrors, a configurable TFT colour gauge cluster, a separate infotainment display with a standard multi-angle parking camera, available navigation, standard Apple CarPlay and Android Auto smartphone connectivity, Siri Eyes Free, SMS text and email-reading capability, dual-zone auto climate control, nine-speaker ELS audio, HD radio, powered and heated seats with available memory, Milano perforated leather and suede-like Alcantara-trimmed upholstery with an optional semi-aniline full leather interior and an available Alcantara roofliner, plus more. Go ahead and browse through the chart above to see everything the NSX comes with that's either not available or optional with its pricier rivals, all of which makes it one of the easiest to live with in the supercar class.
Living in the lap of luxury with the ability to get where you're going quicker than with most any other car are important NSX attributes, but knowing this mid-engine exotic is likely to be more reliable than its Italian, British and German competitors doesn't hurt matters either. Acura backs up the NSX further with the longest warranty in the class, featuring four years or 80,000 kilometres of basic coverage, five years or 100,000 km of powertrain protection, and eight years or 160,000 km of emissions and hybrid components coverage, not to mention roadside assistance for four years with unlimited distance limits.
It should now be easy to see that the new Acura NSX is the logical choice when it comes to hyper-fast mid-engine supercars, but then again we all know that emotion plays a big part in any sports car purchase. Therefore, with a new appreciation for the NSX' incredible performance, respect to the environment, luxuriously finished and well stocked cabin, better than average expected dependability and worry-free warranty, it's time you made a personal connection with its dramatically chiseled lines and finely crafted details by visiting North Shore Acura at 828 Automall Drive, North Vancouver.